Vectorworks Landmark 2019 with Vectorworks Service Select (VSS)
00002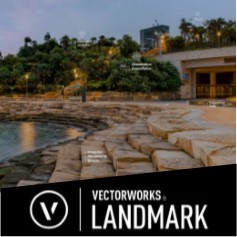 Vectorworks Landmark 2019
Vectorworks Landmark software gives landscape architects, designers, and urban planners a platform to design in their own way. Landmark offers creative solutions to streamline everyday tasks with industry-leading tools that enhance your workflow.
The software's built-in objects, site information modelling capabilities, powerful databases, innovative irrigation tools, effective project sharing, and flexible documentation features will empower you to you transform the built environment like never before.
Vectorworks Service Select (VSS)
VSS is a subscription agreement providing benefits, including upgrade of new product releases, best pricing, priority technical support, VIP access to downloads, and an ever-growing library of on-demand learning tutorials.
Please note: This special price includes a 50% promotional discount on the full price of VSS and applies to NEW licenses only. If you currently own any other Vectorworks software, you will need to purchase VSS for each license.
Please contact us on 0207 436 9004 for further details.