FOR NEW USERS ONLY - 25% off Vectorworks Architect & Free VSS
00078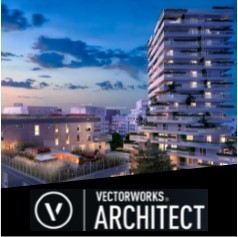 Vectorworks Architect 2019
MAKE THE SWITCH 25% off Vectorworks License & FREE VSS for New Vectorworks Customers Only
Designers choose Vectorworks Architect software because it provides a solution that supports the creative process instead of replacing it. From 2D and 3D to BIM and beyond, Vectorworks Architect delivers a robust suite of capabilities that will enhance your workflows from concept to construction and improve your design process.Whether your speciality is architecture, landscape, or entertainment design,
Vectorworks Service Select (VSS)
VSS is a subscription agreement providing benefits, including upgrade of new product releases, best pricing, priority technical support, VIP access to downloads, and an ever-growing library of on-demand learning tutorials.

Please note: Our special offer price for New Vectorworks Users is for a discount of 25% on the purchase of a NEW license of Vectorworks 2019 and includes 1 free year of VSS. Offer ends 5pm 14 June 2019. This promotion applies to NEW Vectorworks customers only.
Please contact us on 0207 436 9004 for further details.

Select your Free 'Introduction to Vectorworks' training date:
24 June 2019 (0) 22 July 2019 (0) 28 August 2019 (0) No training (0)