Buy New Licence of Vectorworks Spotlight 2019
00071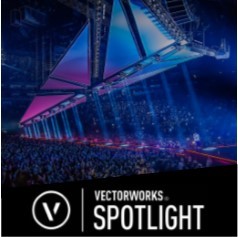 Vectorworks Spotlight 2019
Vectorworks Spotlight is the 'go to' industry-leading design software for entertainment design. Develop and deliver ideas to create your next unmatched experience with industry-leading drafting and modelling tools, realistic renderings, integrated database worksheets, lighting devices, and more.
Whether you work in lighting, scenic, event, TV, film, rigging, or exhibit design, Spotlight software balances your process with the need for coordinated, accurate information so you can create unmatched experiences.
Vectorworks Service Select (VSS)
VSS is a subscription agreement providing benefits, including upgrade of new product releases, best pricing, priority technical support, VIP access to downloads, and an ever-growing library of on-demand learning tutorials.

Are you new to Vectorworks? Please see our SPECIAL PROMOTION
Please contact us on 0207 436 9004 for further details.
SELECT YOUR OPTION
Vectorworks Spotlight with VSS - I am an existing or previous Vectorworks customer (0) Vectorworks Spotlight without VSS (-270)
Select your Free 'Introduction to Vectorworks' training date:
24 June 2019 (0) 22 July 2019 (0) 28 August 2019 (0) No training (0)