ContextCapture with SELECT
05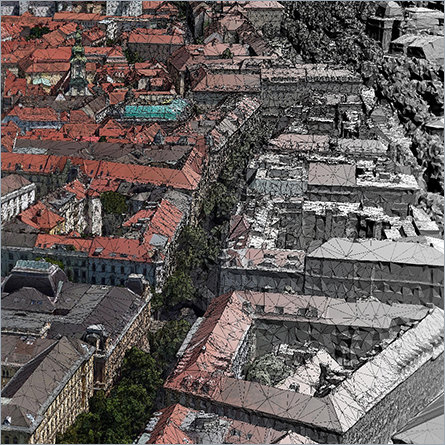 Reality Modelling Software


With ContextCapture, you can quickly produce even the most challenging 3D models of existing conditions for building and infrastructure projects of all types, derived from simple photographs. Without the need for expensive, specialised equipment, you can quickly create and use these highly detailed, 3D reality models to provide precise real-world context for design, construction, and operations decisions for use throughout the lifecycle of a project.
Develop precise reality meshes affordably with less investment of time and resources in specialised acquisition devices and associated training. You can easily produce 3D models using up to 300 gigapixels of photos taken with an ordinary camera and/or 500 million points from a laser scanner, resulting in fine details, sharp edges, and geometric accuracy.
Hybrid processing in ContextCapture enables high-resolution photography and point cloud data to be incorporated into a single model.

Extend your capabilities to extract value from reality modelling data with ContextCapture Editor, a 3D CAD module for editing and analysing reality data, included with ContextCapture. ContextCapture Editor enables fast and easy manipulation of meshes of any scale as well as the generation of cross sections, extraction of ground and breaklines, and production of orthophotos, 3D PDFs, and iModels. You can integrate your meshes with GIS and engineering data to enable the intuitive search, navigation, visualisation, and animation of that information within the visual context of the mesh to quickly and efficiently support the design process.
Contact us for License Subscription options
ContextCapture
Perpetual License with Annual SELECT Subscription (1210) Perpetual License Only (0)